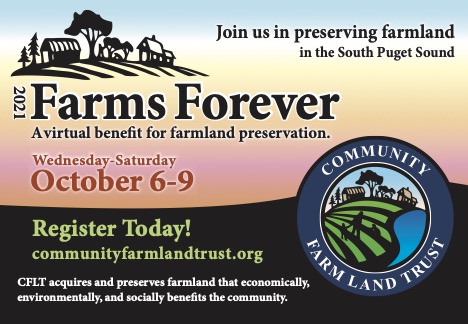 CFLT Farms Forever Online Auction
COMMUNITY FARMLAND TRUST'S FARMS FOREVER ONLINE AUCTION OCT. 6-9th !!!
The Community Farm Land Trust (CFLT) is a 501 (c) (3) membership-based non-profit organization dedicated to preserving farmland and keeping it running forever. We promote vibrant local food and farming systems through community-supported farmland conservation strategies, outreach activities, and partnerships that increase opportunities for farms and farmers to thrive.
Farms Forever is CFLT's annual fundraising event. With the increase in the number of COVID cases, we have decided to no longer hold a physical event for Farms Forever this year. Join us for our online auction. Lots of interesting articles: Cabin Adventures, Wine Tastings, CSA, Boat Tours, Walk with Baby Lambs and much more! Sign up for free at bit.ly/2021FarmsForever. Nfaot interested in auction items, consider donating to our fundraiser at bit.ly/2021FarmsForeverDonations. Your financial contribution helps support our mission to preserve workable and affordable farmland, such as the recently acquired James Family Historic Farmland, rich in agricultural history in the South Sound. Invest now for future generations.
Visit our auction website at bit.ly/2021FarmsForever. For more information, see our website commuityfarmlandtrust.org. Contact Jeanine @ sscflt, org for any questions