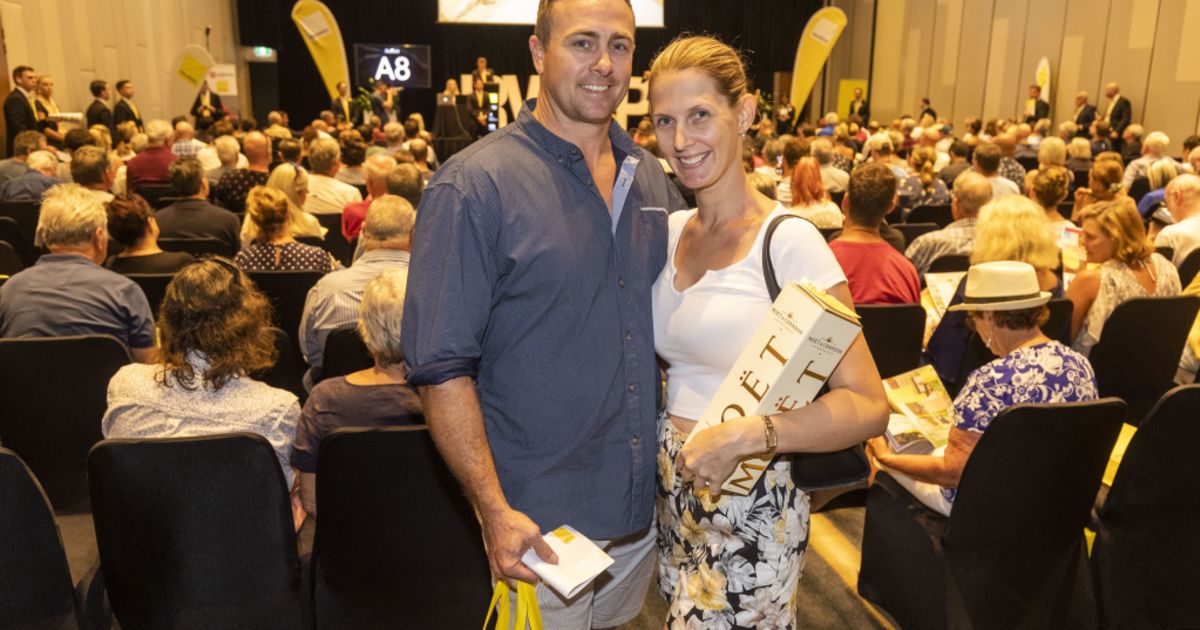 Gold Coast property experiences 'highest level of interest in 47 years'
Properties worth over $ 17 million sold under the hammer on Saturday, rewarding buyers, sellers and investors who braved a hot and humid day to attend Australia's largest auction on the Gold Coast.
Momentum has built up on the Gold Coast over the summer months with a number of high-profile deals, including the recent sale of the Burleigh Waters property from fitness guru and social media queen Ashy. Bines, which changed hands for $ 2.2 million.
Expectations were high on Saturday as crowds walked through the exhibitor booths at RACV Royal Pines Resort, tasting free ice cream and gathering information as they made their way to the auction room.
It was fully packed, ready for the auction to start at 11 a.m. Domain's home price report released last week shows the median home price in the area to be $ 640.00 (up 3.2% year-on-year) and the unit price at $ 420,000. – and with inventory levels at record levels, the anticipation of the competition was palpable.
It did not disappoint. As of 4 p.m., more than $ 17 million worth of properties had been sold under the hammer and Andrew Bell, CEO of Ray White Surfers Paradise Group, said it was the highest level of interest he has ever had. seen during his 47 years in the business.
"We find that most of the locals buy a higher priced product," he said. "We have sold four properties in the range between the top $ 4 million and the top $ 5 million in the past two weeks. The locals have been very strong in this high end, where there has been a weakness in recent years. "
There were 103 initial properties listed for this year The event program, which is run annually by Ray White Surfers Paradise Group (RWSP), ranging from one-bedroom apartments to luxury mansions.
This year's offerings ranged from one-bedroom apartments in Surfers Paradise to a five-unit block on Sunrise Boulevard, offering a net return of around $ 60,861.
There were apartments in Main Beach up to 7309 Bayside Close, Sanctuary Cove, an elegant contemporary three-level riverside mansion with six bedrooms, nine baths / toilets and a 10-car garage.
Andrew Bell took the stage alongside Ray White Queensland's chief auctioneer Mitch Peereboom to kick off the day with a quick and furious auction of a pair of four-bedroom, two-bathroom duplexes in Southport .
Confident couple Aaron and Celeste Morgan landed the first deal of the day under the yellow hammer after a hotly contested wave of action between them and a sideline telephone bidder.
The couple were delighted to have managed to secure the property for $ 581,000, with an estimated rental return of $ 700 per week.
"I did the math and it made sense – it provided positive cash flow," said Aaron, who runs his own construction company Renomate Construction on the Gold Coast.
"I can do the job myself, so it's the cost of the materials plus my time. It's medium density zoning, so who knows, in 10 years we might even be building a low rise building.
Celeste added that they had both been at auctions before, but it was especially exciting because they really liked the potential the property offered – and it was the first cab in a row. They also had their eyes on a few other announcements and were bolstered by their first success.
After another flurry of auctions, the hammer fell on a Molendinar property for another young couple, William Grange from France and Laura Stevens from New Zealand. The radiant couple took over the 3-bedroom, 2-bathroom property for $ 475,000.
"We've been watching him for about a month," Laura said. "We had actually picked a few properties but it was at the top of our list so we were thrilled! This is our first property together; this is a huge renovation project and we are going to do it ourselves.
"We're going to get into it as soon as possible in 30 days when we're done. We loved the space this property offered, the landscape it sits on, as well as the double living opportunity.
The couple plan to renovate, get a new appraisal, and then decide whether to sell or live in to profit from the results of all their hard work.
Rocky Lee from China was delighted to purchase a 2 bedroom, 2 bath at Hilton, Surfers Paradise for $ 550,000. "My parents are going to live there," he said. "I live in Southport so it will be great to have my parents nearby. "
The high quality Hilton apartment with modern finishes and furnished with Hilton furniture has been owned by Mr. and Mrs. Niimi since the building was constructed.
The couple had spoken to their sales agent Ray White every week before the event and were extremely happy with the price they got at auction.
"We bought it during the construction of Hilton. We are very happy today, "said Mr. Niimi, smiling at his wife.
Andrew Bell said he was very happy with the way the auction was going.
"Yes, it's going well," he said. "It's not unusual in a rising market to have a gap between sellers and buyers; sellers may feel a little more adventurous. We have a lot of buyers, so I am very confident in today's success.
Bell said the Gold Coast real estate market is booming – and it hasn't slowed down over Christmas time.
"We have had a remarkable start to 2020," he said. "We actually had over 80 sales from January 1 to today, and those are unconditional sales. We were doing Christmas Eve sales at the end of the afternoon, that says a lot about the level of envy. People were like, "I don't want to wait, I want to buy now! "
Aside from the people of the Gold Coast, those looking to take a sunny step or invest are also driving demand.
"Tourists are mostly divided into two categories," Bell added. "We have people looking for vacation apartments in the under $ 800,000 range, and we haven't seen these people be this active in many years. And then we have strict investors looking to buy to rent.
"What we see here is incredible. We have 2,500 properties and a vacancy rate of 0.4%. You would typically see at least a 3% rate, so it's really remarkable. "
Bell added that the recent bushfire crisis in southern Australia could also increase demand from the Gold Coast in the future.
"Our data shows strong migration to the Gold Coast," he said. "We are seeing huge numbers coming from other states and I think the bushfires will start even more. If anyone can sell Victoria for $ 2 million [and] buy on the Gold Coast for $ 1 million, they have money in their pockets to retire.
"What we see here are the baby boomers, [who] were like a snake swallowing a billiard ball. They put enormous pressure on maternity hospitals, then schools, universities, now we see them retiring.
Andrew Bell's forecast for the Gold Coast 2020:
"We are seeing a huge demand for closed and left style properties that offer this easy lifestyle.
"Without a doubt, we will see demand in northern suburbs like Hope Island and Sanctuary Cove.
"I expect to see some of what I call 'sleepers' come to life, like Ashmore and Molendinar, who have been somewhat forgotten for a number of years.
"Southport will continue to attract buyers; it has fantastic transportation and there are lots of job opportunities in the area.
"We will also continue to see the interest in the entire Band from Broadbeach to Currumbin, which has really come to life over the past two years. We see a lot of new apartment buildings there and a lot of restaurants – it's really something now.