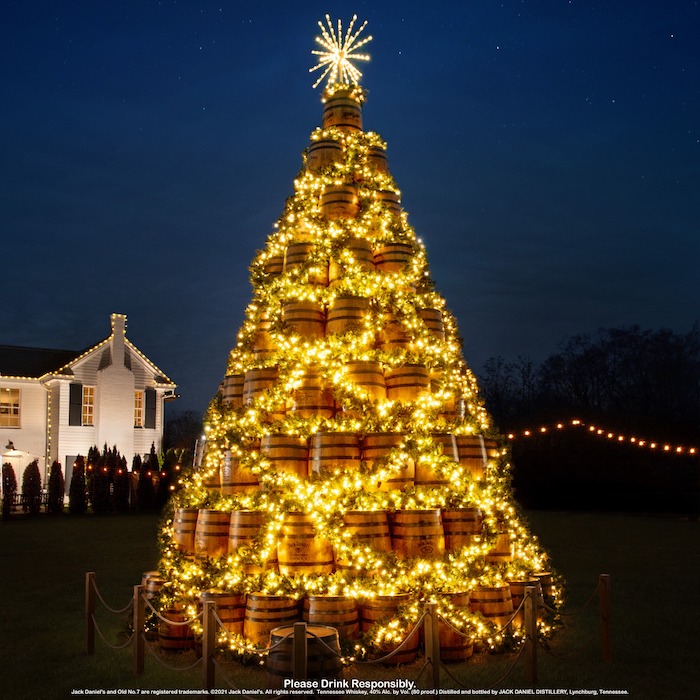 Jack Daniel's Annual Barrel Tree Online Auction Underway to Support Military Families
You can take home a piece of the Jack Daniel Distillery this holiday season… for a good cause.
The annual Jack Daniel's "Barrel Tree" auction is currently underway, raising funds to help junior military service members and their families return home for the holidays as part of the brand. whiskey Tennessee's "Operation Ride Home" program with the Armed Services YMCA (ASYMCA).
The Lynchburg, Tennessee Distillery built its first 26-foot-tall tree from 140 American white oak whiskey casks in 2011 to bring holiday cheer to local residents.
This year, 11 replicas were made across the country in Nashville, Tenn .; Lynchburg, Tennessee, Tampa, Florida; Miami, Florida; Las Vegas, Nevada; Anaheim, California; Los Angeles, California; Washington DC; Cleveland, Ohio; Detroit, Michigan; and Milwaukee, Wisconsin.
Everyone's first barrel will be auctioned off to help enlisted youth and families return home from their military service, often for the first time since the start of the COVID-19 pandemic.
Each charred oak barrel, which has only matured Jack Daniel's Tennessee whiskey once, will be signed by master distiller Chris Fletcher and personalized with laser engraving.
Since 2011, Jack Daniel's and ASYMCA have helped send more than 10,000 individual service members and their families home, including this year's travelers, while raising more than $ 2 million in donations.
Men and women from the military, marine corps, navy, air force and coast guard were helped to travel to all 50 states.
The Operation Ride Home Barrel Tree Auction ends December 21 at 2 p.m. EST. To bid on a barrel and support military families, visit www.jackdaniels.com/operation-ride-home.