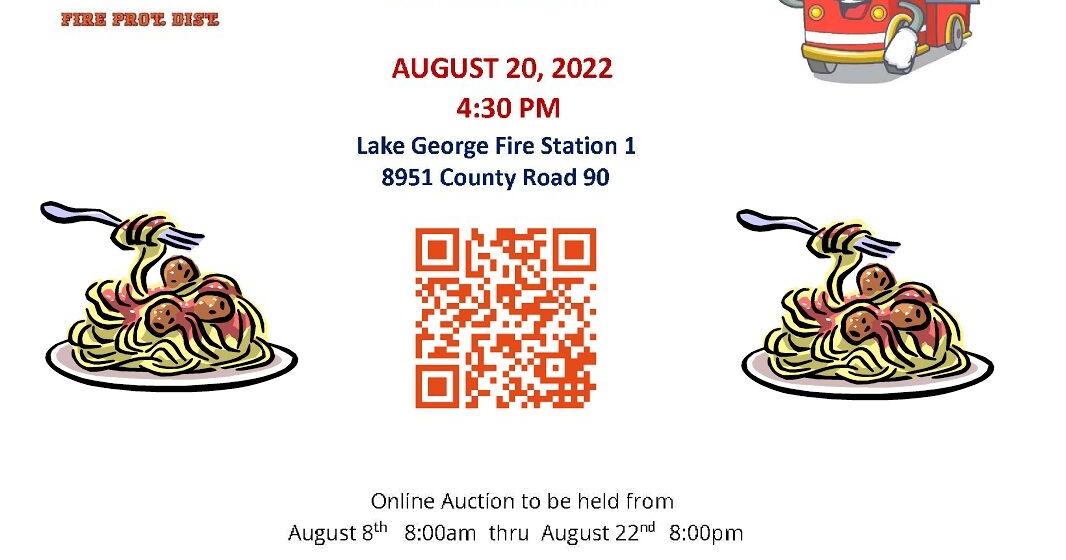 Lake George Fire Protection District Seeks Donations of Auction Items for Annual Fundraiser | Mail from Pikes Peak
The Lake George Fire Protection District announces its annual spaghetti dinner fundraiser, to be held Saturday, August 20 from 4:30 p.m. until spaghetti runs out.
Each year, LGFPD uses funds raised from the spaghetti dinner for specific needs. This year they are raising funds for medical and communication equipment. A 50% matching grant fund for four automatic external defibrillators, one LUCAS automatic CPR machine, six mobile radios and four portable radios has been secured. The amount needed is $36,000. These items are essential to provide the best medical results in a very rural area.
AEDs will be added to three of the "first on-site medical response vehicles" that currently do not have them. The fourth will be installed in the district's central station. An AED is the crucial first piece of equipment when a person experiences a cardiac event. The automated CPR device will be on the primary medical response vehicle that responds to every medical call.
Communication with dispatch and other response units is essential on every call. Adding 800 MHz radios to vehicles and personnel will ensure that we can communicate with dispatch, among ourselves and with other agencies.
The LGFPD has been a special district for 45 years and today employs a paid chief and an administrative assistant, who is also a volunteer firefighter. An average of 20 fire response and EMS volunteers fill the roster, serving the four stations in the district: Lake George; eleven mile reservoir; Tarryall; and carriage language. The LGFPD has 13 engines, squads, rescue and utility vehicles, an additional squad and a command vehicle located at district stations. Due to the size of the district, each of these locations must be equipped to handle any type of call.
The district encompasses 250 square miles, 87% of which is federal or state land for which the district receives no funding. The district depends on tax revenue from the remaining 13%, as well as donations and grants, to operate.
Although most of the Lake George Fire Protection District is federal territory, LGFPD units respond to all calls within the district, regardless of location. The US Forest Service does not provide medical or rescue services for those on their land. The LGFPD generally has no cost recovery for these services and is not a transport agency. LGFPD relies on the Ute Pass Regional Health Services Ambulance and Flight for Life Aeromedical for transportation and care of ALS patients. Often ambulances are 45 minutes away. Lake George Fire also responds to calls for mutual aid in Florissant, Guffey, Hartsel, Jefferson/Como and as a member of the Wildland Task Force for all fires in Teller County.
The community is mostly made up of ranches, fishing/hunting cabins, and second vacation homes. Although the population is estimated at 2,500 on average, the number of visitors and short-term holidaymakers increases this figure considerably. There are a limited number of businesses in Lake George including a gas station, general store, two RV parks, two small cabin rental parks, a hemp shop, a fly fishing shop and a restaurant. It has a library, a charter school, and three churches. Lake George also has three bulk and tank propane storage facilities.
Those who attend the annual spaghetti dinner will receive spaghetti topped with homemade sauce, salad, bread and drink. "Cowgirl Tricia" (Tricia Parish) will provide live entertainment for the evening and there will be aero-medical helicopters, ambulances and LGFPD vehicles on display.
The spaghetti dinner is a community event and there is no set cost; Donations will be accepted at the door. The dinner will be held at the main LGFPD station at 8951 CR 90 (corner of County Road 90 and US 24.
The district is hosting an online auction Aug. 8-22. To participate in the auction or make a monetary donation, go to 32auctions.com/LGFire.
Firefighters are always looking for items that can be donated for the online auction. These can be crafts, handmade items, items from a business, or gift certificates for goods/services. For more information on how to donate items to the auction, call the station at 719-748-3022 or email Chef Susan Bernstetter at [email protected] Donated items or confirmation of items are required prior to the August 8 start date.
If you cannot attend, but would still like to donate, donations can be dropped off at the train station or mailed to Lake George Fire, PO Box 281, Lake George, CO 80827. They can accept donations by credit card by phone at 719-748-3022.