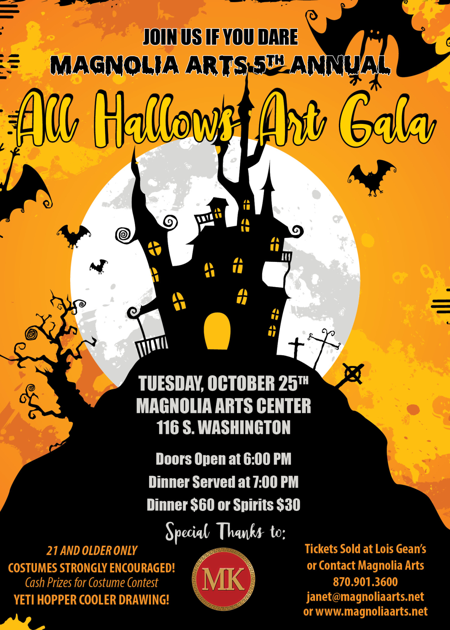 Live Auction Items Announced For All Hallows Art Gala | Entertainment
Those who attend the All Hallows Art Gala on Tuesday, October 25 at the Magnolia Arts Center will have the chance to bid on 16 live auction items.
Tickets for the steak dinner must be purchased no later than Friday at Lois Gean's or by contacting the Magnolia Arts Center at 870-901-3600.
Tickets are $ 60 for the 7 p.m. steak dinner, with a spirits ticket priced at $ 30.
The auction items:
1. Dessert club of the month
– 12 months of a variety of desserts made by Annabelle Babbitt and Janet Rider-Babbitt
– Expires on: October 24, 2017
2. Cookies with Santa Claus for up to 12 children at the Magnolia Arts Center or at your home
After listening to Christmas stories, doing a craft project, decorating and eating homemade cookies, and drinking hot chocolate – 12 lucky kids will be in the Christmas spirit.
– Santa Claus delivers a plush surprise stocking for each child.
– Given by Tara Franks and Janet Rider-Babbitt
– Expires on: December 23, 2016
3. Gourmet dinner for 12 at Angela and Phil Lester's house
– A gourmet dinner prepared by and at Angela Lester's.
– Includes a gourmet meal and drinks.
– Expires on: October 24, 2017
4. VIP table at the musical evening with Josh Matheny and his friends January 14, 2017
– VIP reserved table and 10 tickets for Josh Matheny & Friends Performance
– Special food and drink served at your VIP table will include wine, beer, cheese and snacks
– Location: The Magnolia Arts Center, 116 S Washington, Magnolia.
5. Weekend at Bentonville & Crystal Bridges Museum
– Four tickets to the Art of American Dance exhibition at the Crystal Bridges Museum (October 22, 2016 – January 16, 2017).
– 1 hotel night at Simmon's Suites and 1 hotel night at Double Tree Suites with breakfast for 2.
– $ 50 gift card to the Flying Fish restaurant
6. Heavy appetizers for 50 people at your event, prepared by "Kat's in the Kitchen"
– Includes succulent meat, side dishes, dip and assorted candy
– At your location and includes cleaning
– Part may be enlarged, at buyer's discretion, for an additional charge
– Given by Kathy Gean
– Expires October 24, 2017.
7. Box Seats for one night of Magnolia Stampede PRCA Rodeo.
– Watch the cowboys and cowgirls of PRCA compete for real money in Story Arena.
– Witness all the action in convenient 6-person seats at the Magnolia Stampede PRCA Rodeo.
– Choose your evening: March 17 or 18, 2017
– Separated from the SAU Rodeo series.
8. Christmas decoration extravagance
– Using your decorations, Brandon Gray will provide three hours of creative Christmas decorating to your home.
– The Magnolia Arts Center team will come to your home and wrap all your Christmas presents.
– We will provide Christmas packaging supplies or you can provide your own special packaging.
– Expires: December 2016
9. Round of golf at Mystic Creek Golf Course for 2 with cart
– Gift certificate for a round of golf at Mystic Creek Golf Course in El Dorado for 2 people.
– Expires May 1, 2017
10. Supper Club dinner for 12 at Nathan and Katherine Caldwell's.
– Past appetizers are part of a fabulous four-course meal prepared just for you by members of Magnolia's Supper Club.
– Expires on: October 24, 2017
11. Portrait by Dr Moises Menendez and Custom Framing gift certificate
– 11 x 14 portrait from a photo of your choice (max 3 people).
– You choose pencil, graphite or pastel.
– A $ 100 gift certificate with personalized coaching from Melissa
– Expires on: October 24, 2017
12. Brunch and Mimosa or Bloody Mary Bar for 10
– A seated brunch at Rebecca and Chris Gosnell's.
– Includes your choice of a Mimosa or Bloody Mary bar.
– Donated by Rebecca and Chris Gosnell, Kristy Smith, Shelby O'Donnell, Katie Caldwell and Crystal Sharp.
– Expires on: October 24, 2017
13. Ladies Day Out Spa Package by Serenity Day Spa and Salon
– 3 seasonal mani-pedis and 3 relaxation massages
14. Dinner and masterpiece evening for 12 adults at Nathan and Katie Caldwell's
– Casual event that would be ideal for couples or a group of friends
– Art supplies and canvas will be provided for the art class
– A casual meal with cocktails can be a hearty lunch, dinner, brunch or appetizers. Buyer's choice.
– Expires on: October 24, 2017.
15. Champagne & Shopping for you and 9 of your best friends at Lois Gean's
– Will be hosted after normal shopping hours or on a Sunday.
– Each person will receive a gift bag valued at $ 25.
– Includes appetizers and informal modeling.
– Expires on: October 24, 2017
16. Wine and cheese tasting for 12 people at Laura and Steve Crowell's
– Enjoy the pairing of delicious wines from around the world with cheeses, meats, side dishes, dips and an assortment of candies and chocolate.
– Expires on: October 24, 2017