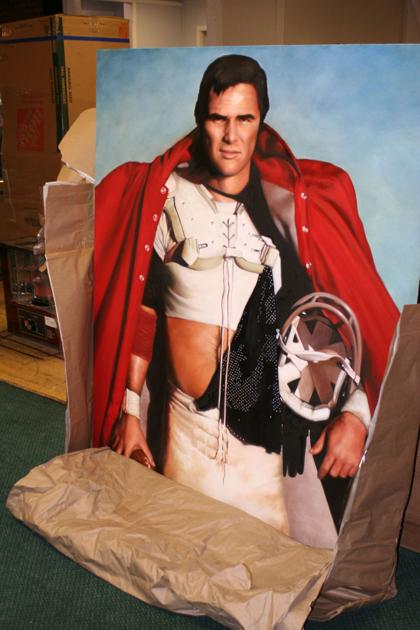 Local family prepared Burt Reynolds auction items | Local News
GOSHEN – Goshen's best kept secret is now on its way to Las Vegas.
A treasure trove of Burt Reynolds' possessions has been in Goshen since late August, cataloged, photographed, and packaged for auction in Las Vegas, all in some nondescript building on the north side of town. In fact, the location, next to the Massimo pizzeria along the Ind. 15 North, was once a bar.
Darren Julien, president and CEO of Julien's Auctions, Beverly Hills, Calif., Enlisted the services of his Goshen-area family to help prepare the legendary actor's assets for auction.
Dawn Woods, Darren's sister, said her brother wanted their father, Keith Julien, to be able to work with the collection. Keith enjoys auctions and enjoys helping his son. And since Keith is undergoing chemotherapy and radiation therapy for cancer at the IU Health Goshen Cancer Care Center, the best way to do that was to bring the collection to him.
The location had to be secure and kept private.
Darren arranged for the building with owner Tom Goss. "It was the perfect place for us," said Dawn.
Then the family got to work.
Keith worked on the project, as did Dawn and her family – her husband Patrick and children Alicia, Erica, George, Anthony and Nicolette – her brothers-in-law Bob and Mike Woods and her friends Dean Jana and Cody Foust. Over 800 items were cataloged including a large art collection of paintings and sculptures, sports memorabilia, movie props, clothing, saddles, Reynolds' red jacket from "Smokey and the Bandit", director John Ford's chair and desk, a canoe-style "Deliverance" and an antique watch to Reynolds from Sally Field engraved with a marriage proposal – to name a few.
To ensure safety, the food came from Massimo or Darren and Dawn's mother, Jane Pridgeon, or her stepmother, Arlene Julien. In addition, M&M Security kept an eye on the place, for which Dawn was extremely grateful.
"So many people love (Reynolds)," Dawn said. "He is highly respected.
Of the items cataloged, Dawn said she liked Reynolds' boot mirror the most – it was a mirror framed by the top of several of her cowboy boots.
"He's a size 10 if anyone's interested in his boots," Dawn said with a smile.
Those interested in the Burt Reynolds collection can do so online at juliensauctions.com
The live and online auction will take place December 11-12 at the Palms Casino Resort in Las Vegas. Those interested in online auctions should visit juliensauctions.com to register and bid.