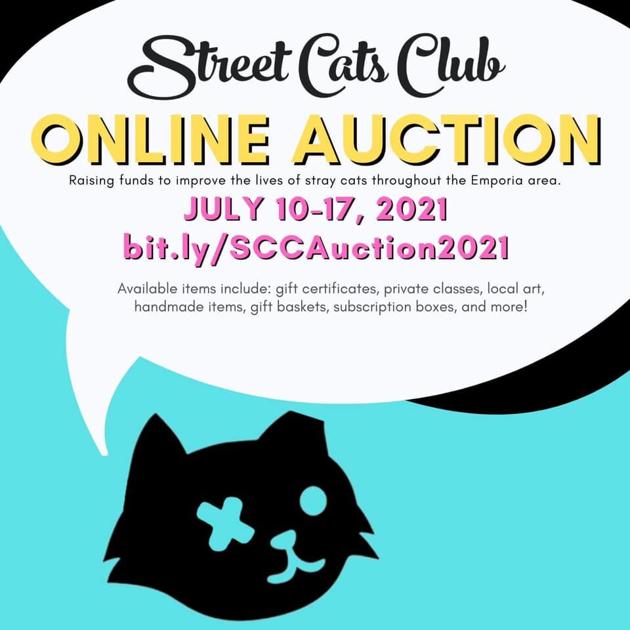 Street Cats Club Online Auction Comes To An End | Release
The Street Cats Club, a nonprofit that specializes in improving the lives of stray cats in the community, is nearing the end of its online auction.
SCC celebrates its second anniversary.
Before the auction opened, a number of Facebook members had expressed interest in supporting the local association. This was exciting news for CSC Founder and Director Victoria Partridge.
"It's really good," Partridge said. "We started promoting it a week before we launched it, and we already had about 60 people who indicated they were interested via the Facebook invite. It was really exciting.
The items included in the auction are all about being an experience rather than an item. Some of these experiences include an overnight stay at Suzy's quiet home in Topeka, a private spring roll-making class sponsored by Chi Em Eats, and a Moodie Boudie Mini Boudoir photoshoot.
"Right now we have over 40 items available and there is also a huge range of items," Partridge said. "There are a lot of experiences because I really thought it would be fun to have. … It's cool to see what really excites people.
All items will be available for auction until auction ends at midnight on Saturday July 17th. The best way to find the auction is on SCC's Facebook page, @thestreetcatsclub. The link for the auction is bit.ly/SCCAuction2021.
"You just enter a little bit of contact info, it logs them in, and that way they know how to notify you if someone outbids you," Partridge said. "You can just browse, you can check everything. You can even say you're interested in viewing an item if you're not really sure you want to bid on it now, but maybe you want to bid on it on Saturday just before auction close and outbid someone, and that's totally fine. "
The money raised through this auction will go mainly to medical bills for stray and foster cats in the community.
"Right now, the Street Cats Club, we're doing about 50% foster care and 50% TNR. [Trap-Neuter-Return]that's the core of the work we do in the community, "Partridge said. "Both are going really hard right now because we are in the middle of kitten season. In fact, today we have just agreed to take our 30th foster kitten.
The TNR program helps solve cat overpopulation issues in the community by trapping cats, spaying or neutering them, and then turning them over.
"We have a TNR coordinator who is busy coordinating TNR across our community, and we have almost 200 cats on this list that we are working to get through TNR," Partridge said. "For each of the TNRs, it costs about $ 55 to sterilize or sterilize them."
With SCC's fostering program, kittens and cats receive all necessary medical care before adoption.
"For all of the kittens in our foster program, they will also be spayed or neutered, plus they will receive their vaccines and any other medical care they need," Partridge said. "We specialize in accommodating slaughtered kittens, so they usually need a little more medical help."
SCC is an organization run entirely by volunteers. For this reason, the money they raise through fundraising is crucial to their survival as an organization.
"One of the things I like to point out is that this is a completely volunteer-run organization," Partridge said. "None of us get paid for what we do, we all have daytime jobs, and we do it like what I call my side job. I always use air quotes because it's like a hobby but more than a hobby. It is a passion for all of us.
SCC Board Chair Gretchen Russell is in training to become the Adoption Coordinator. She just welcomed her first adoptive kittens a little over a week ago. Watching the kittens grow up and prepare for adoption is extremely rewarding for her.
"We just welcomed our first homes a week and a half ago – the first three – and it has been an incredible experience," said Russell. "I was convinced that I was going to fall head over heels in love, and I absolutely did, but I also talk to each of the kittens every day about 'I can't wait for you to meet your new mommy and your new daddy', so they get big and that's pretty awesome.
To learn more about Street Cats Club, visit streetcatsclub.org or follow the organization on Instagram and Facebook @thestreetcatsclub.
The organization accepts donations through PayPal and Venmo.