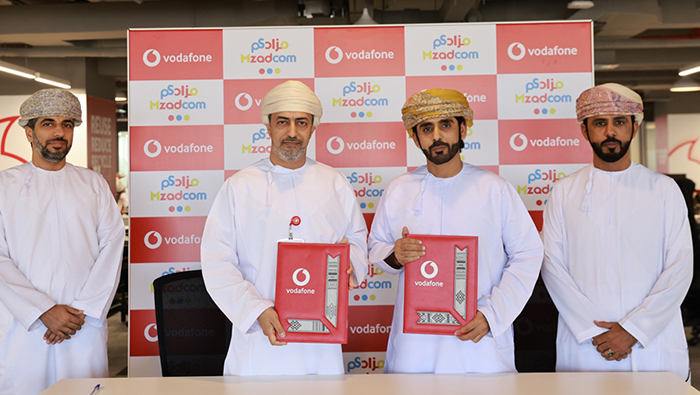 Vodafone signs an agreement with an online auction platform
Muscat: Vodafone recently signed an agreement with Mzadcom Smart Auction Solutions, an online auction platform.
The agreement was signed between Sayyed Fahad Al Busaidi, Chief Support Services Officer at Vodafone and Ibrahim Al Junaibi, Chief Executive Officer of Mzadcom.
This partnership aims to allow individuals to bid and purchase distinctive numbers of diamonds and gold of their choice, in accordance with the rules and regulations of the TRA.
Underlining the importance of the signature, Fahad Al Busaidi said: "Vodafone is committed to ensuring the highest levels of service to its customers, giving them the ability to choose and own exclusive diamond and gold numbers. This step is aligned with the procedures established by the Telecommunications Regulatory Authority (TRA) pursuant to the Decision on the Telecommunications Regulation Act (No. 1/2018), which provides that the allocation of diamond numbers and gold will be conducted through auctions to allow greater transparency in the process of allocating telecommunications numbers to beneficiaries. Signing with Mzadcom further solidifies our vision of being a fully technology-driven company, as bids will be conducted through an online auction platform as well as entering into key partnerships with companies that have already built a strong foundation at Oman. »
Ibrahim Al Junaibi added: "We are proud to be part of Vodafone's efforts to transform the face of the local telecommunications industry. Vodafone, as a brand, operates globally and brings with it a world-class experience that adds to our already existing facilities. We would like to thank them for their collaboration and anticipate the positive impact that our partnership could bring, not only in terms of digitalization in Oman but also in terms of enriching the customer experience.
Mzadcom is an electronic platform for electronic auctions, with a host website that allows users to sell or bid on products online. The previews of articles take place through exhibitions of the respective institutions, governmental or private. Mzadcom is managed by Webware, an Omani company specializing in digital solutions.
Vodafone is available throughout the Sultanate through the My Vodafone app on Google Play Store, Huawei AppGallery and the App Store and in over 3,500 outlets across Oman.